It's officially summer and Independence Day is just around the corner.  What better way to celebrate than with some gear made right here at home.  We put together a few of our favorites (absolutely loving how many fabulous items a person can find that are Made in USA):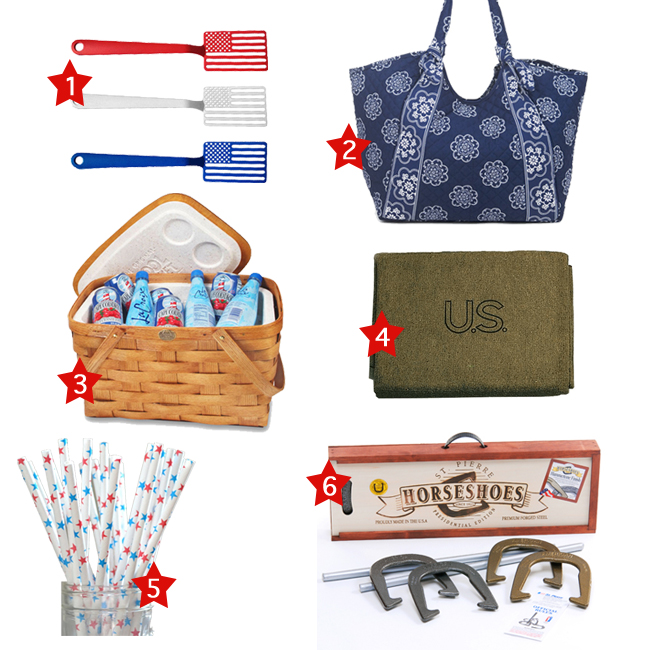 1. Areaware Star Spangled Spatulas 2. Stephanie Dawn Ahoy Tote 3. Peterboro Basket Company Ice Master Cooler 4. O.D. U.S. 70% Virgin Wool Blanket 5. STAR paper straws 6. St Pierre Manufacturing Co Horseshoes
GIVEAWAY!  We adore the Stephanie Dawn Ahoy Tote.  Perfect for the beach, road trips and summer market visits.  Follow these 3 simple steps for your chance to win a STEPHANIE DAWN AMERICA BLUE AHOY TOTE!
1.  Leave a comment on this post (must include email).  Share with us your plans or favorite memory from the 4th of July.  We want to hear from you!
2. "Like" Pretty Plain Janes Facebook and Stephanie Dawn Facebook.
3.  Tweet, Instagram or Facebook linking to this giveaway.  Be sure to tag or mention @prettyplainjanes so we know you linked the giveaway.
Giveaway is open to US winners only, you have until Thursday, 06/27/13 at 11:59PM EST to enter.  Winner will be contacted via email and will have 72 hours to respond or another winner will be selected. Good luck!