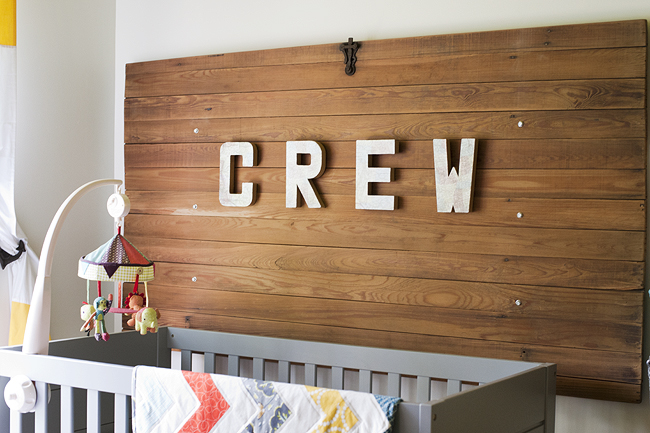 Nursery design for this mum was most definitely one of the more glamorous perks to carrying that wiggly baby boy in my belly. First I must say, I truly dislike the term nursery. As soon as I say it aloud my brain is flooded with images of pale yellow flat paint and bad teddy bear wall borders. Because I couldn't seem to shake the stigma attached, this little boy's room could not, would not, be a nursery. It needed to be a space filled with fun, warm energy, light, and color. It would be a place to piece together, little by little, with unique pieces from all over, that somehow fit together to build a cozy space. It would be a nest.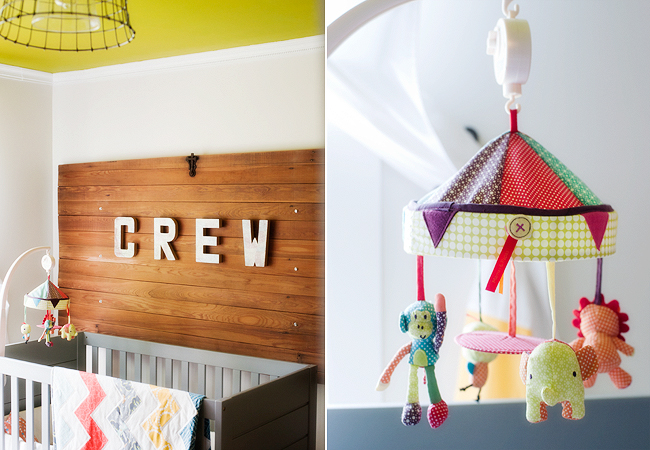 Living in a such an old house, bedroom space is teeny tiny, so I knew I needed to utilize every inch of this little boy's room. I mapped things out in my head, and for a whole year I found bits and pieces along the way to create a space I'd hope he'd come to love as much as his mum. There were lots of DIY projects and many times I had to explain my hair brained ideas to a very skeptical husband. In a way, I'm glad our Crew was a bit of an early bird in his arrival. It seems nearly impossible to design a room for someone I have not met, and watching him notice new things as they've come into his little space has made this mama's heart happy.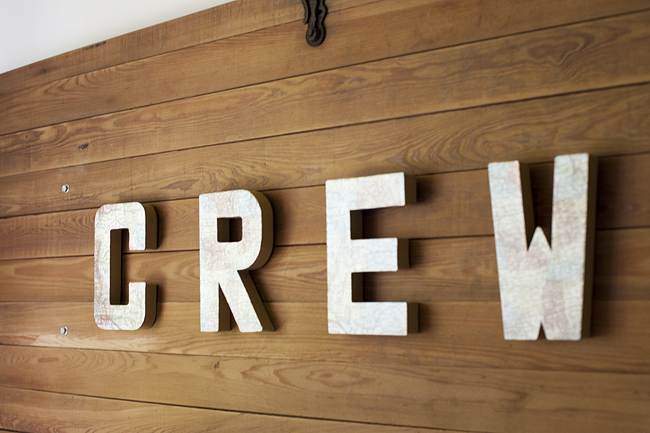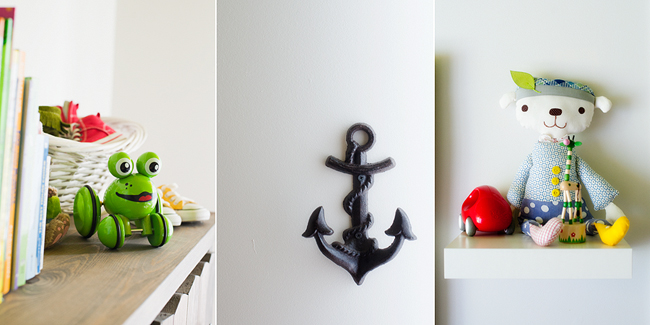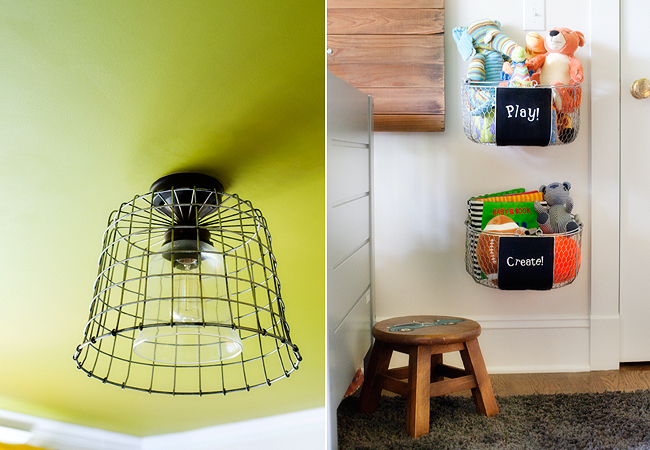 Our basement is filled with treasures. When I found the 100+ year old fruit cellar door just laying untouched in the scary basement, I knew it would make a perfect crib backdrop, (don't worry, we cleaned it). I'm so happy to incorporate pieces of this house into his little nest, (and I think it makes our old lady house happy too). His antique yellow dresser was a $10.00 garage sale find that just needed some refinishing love and a fresh color to wear. His light fixture is a wire basket I turned upside down and attached to a basic hardware store fixture. I loved the industrial rough look I was trying to bring in, as well as the fact that it guards the bulb, which is always good for flying objects in a little boy room! I struggled to find a curtain rod that seemed "manly" enough and decided to just hang them by way of metal pipes and connectors. With his room being so tiny, I filled every nook and cranny. I painted a small wall with chalkboard paint, as well as magnetic paint, to create a fun little magnetic chalkboard for him to play. Magnetic paint is much like painting with very heavy tar, and half way through I was truly doubting this idea, but he adores that silly wall and it will grow with him as he gets older.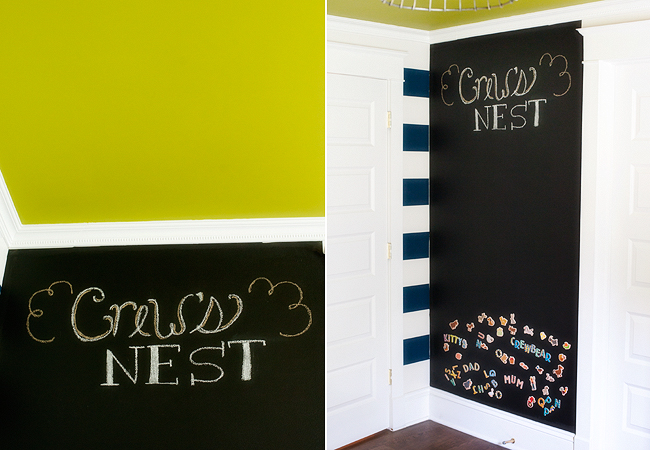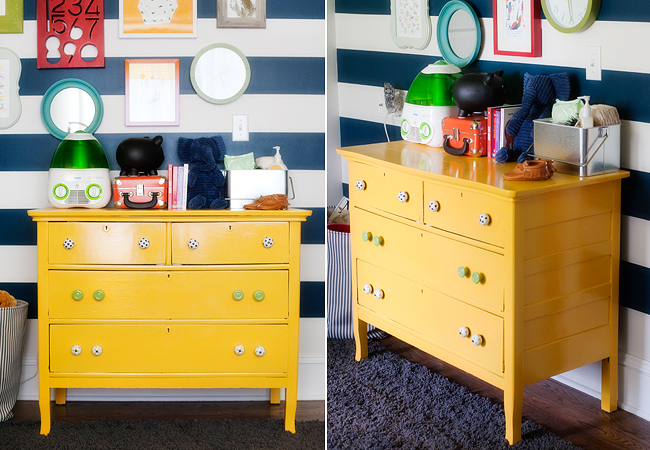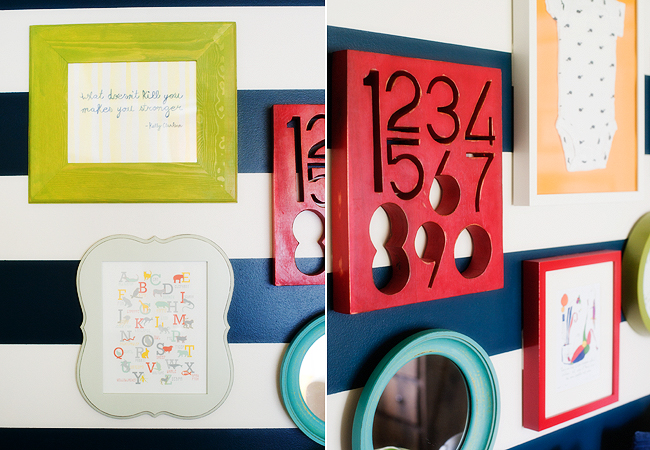 Finished off with navy stripes, a comfy chair, some meaningful art, and fun wire wall baskets, this little nest came together just as I'd hoped. When I walk in, it feels bright, and happy, and silly, and fun. It is exactly a nest for a Crewbear and has this mama bird flying high.
Happy Nesting.

Some pieces of Crew's nest: Grey Crib, Chair, rug (similar), Drapes, Crib mobile, Custom bedding here, Knitted pouf