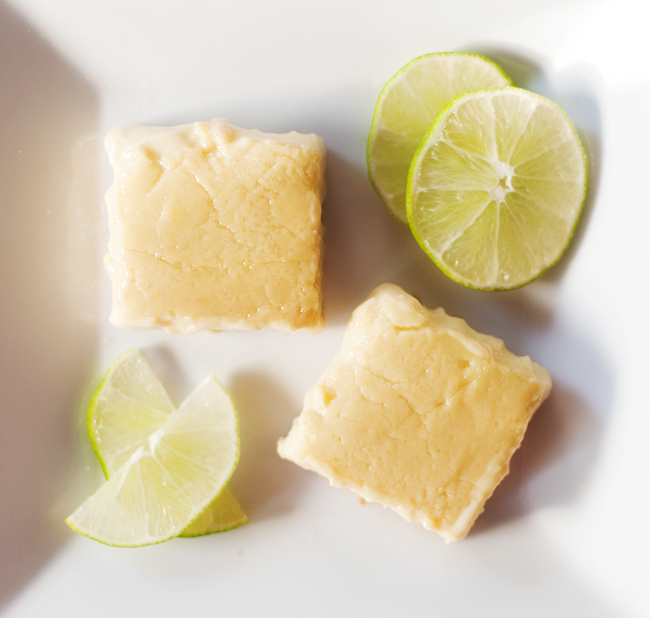 When I was a few months pregnant with Adelynn, my step sister and her husband got married in Key West, Florida.  My sister Brandy and I explored about every inch of that island by foot, to keep our minds off of the fact that we could not lie on the beach sipping cocktails. (I swear I will make it back some day to explore the sipping of cocktails on the beach side of Key West.)  Being pregnant in a place like Key West wasn't all bad though- we stumbled upon a place called Kermit's Key Lime Shoppe that literally sells anything and everything key lime.  A milkshake came first, followed by taffy, followed by pie, followed by a complete love for key lime anything.  (Since then I have learned that Kermit's is an infamous tourist must-see-  good thing we stopped by!)
One of my favorite food bloggers, Sally's Baking Addiction, posted these lovely bars a few weeks back.  Suddenly they were staring me in the face everywhere I looked- my instagram feed, facebook page, other bloggers were making them.  Not only that, but Brandy J has been begging me to make just about anything Key Lime for about two years now- so, here they are.
I knew I would love them as soon as I read the recipe list and found Nellie and Joe's famous Key West Lime Juice on it.  Here in the midwest, its pretty darn near impossible to get your hands on some real Key Limes- but sneaking this into your recipe in a pinch does the trick (and it's available at Walmart!).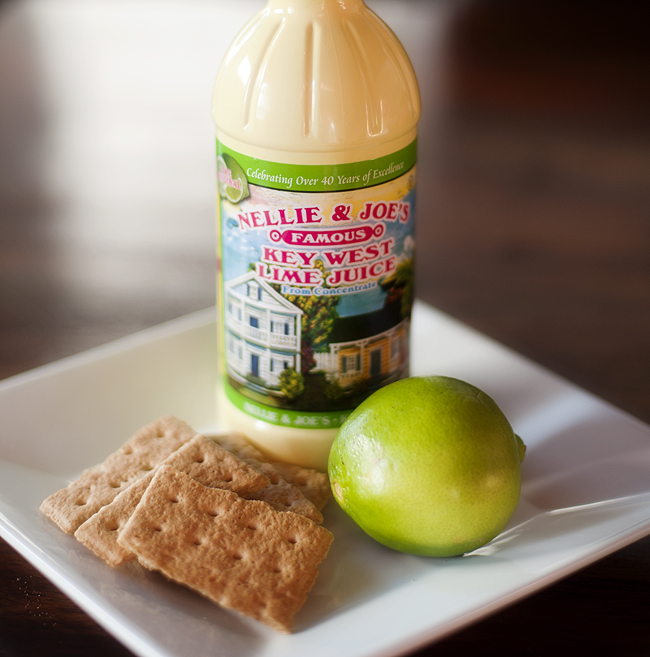 Key Lime Pie Bars
Recipe source:  Sally's Baking Addiction
Ingredients:
Crust:
2 cups finely crushed

crunchy

gingersnap cookies

(I used graham crackers)

3 Tablespoons salted butter, melted
Filling:

4 ounces cream cheese, softened to room temperature
4 large egg yolks
14-ounce can of sweetened condensed milk

(not fat free)

1/2 cup key lime juice
2 teaspoons lime zest

(about 1 lime)
Instructions:
Preheat the oven to 350F degrees. Line a 9×9 baking pan with aluminum foil, leaving an overhang on the sides, and lightly spray with nonstick spray. Set aside.

Make the crust:

Pulverize the crunchy gingersnap cookies into a fine crumb with a food processor. Pour into a medium sized bowl and mix with the melted butter. Press firmly and evenly into the prepared baking pan. Bake the crust for 10 minutes as you make the filling.

Make the filling:

In a large bowl using a handheld mixer, beat the cream cheese on high speed until smooth. Beat in the egg yolks, scraping down the sides as needed. Beat in the sweetened condensed milk, lime juice, and lime zest until combined. Pour into the warm crust.
Bake for 15-18 minutes, or until the edges of the bars begin to brown. Allow the bars to cool at room temperature in the pan on a wire rack. Once cooled, place the the refrigerator to chill completely, at least 2 hours.
Once chilled, lift the bars out of the pan using the aluminum foil overhang. Cut into squares.
*My texture came out a bit off-  I had a mishap and found myself with evaporated milk instead of condensed sweetened milk.  For every cup of milk I added one cup of sugar and heated until it dissolved- but I do think that my portions ended up slightly off.  None the less they were still delish!!