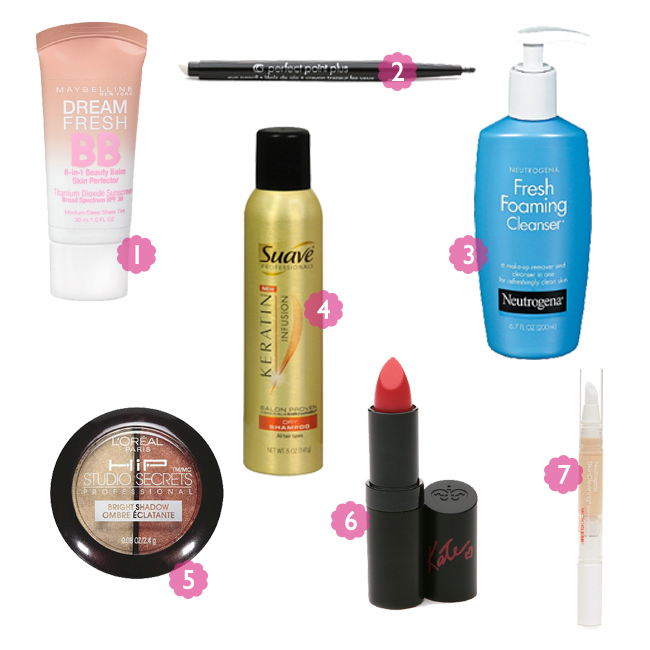 Don't get me wrong-  I love Sephora and the MAC counter just as much as the next girl.  But I also love finding fabulous products for a fourth the price that don't leave me feeling guilty with an empty wallet.  Here are some of my very favorite products that can be found at any drugstore!
1. Maybelline B.B. Cream I love anything that acts as an all-in-one!  For me, a lighter finish "foundation" works best with my skin and this product is just that.  I have also tried Loreal's version of B.B. Cream and like this one a tad more because it offers a little bit more coverage without looking cakey!
2. Covergirl Perfect Point Plus This has been my go-to favorite eyeliner for as long as I can remember.  I love it because it doesn't smudge and you don't have to fuss over sharpening the pencil.  Win win in my book.
3. Neutrogena Fresh Foaming Cleanser Here I am again with the all-in-one.  A cleanser AND makeup remover- and it works.
4. Suave Dry Shampoo As one of my close friends said, dry shampoo is a total game changer.  I once spent $20 on a bottle of salon brand dry shampoo, used it twice (no exaggeration) and the can was empty.  $10 a use?  No thank you.  $3 for a can that lasts about a month and boasts the same results? Yes, please. 
5. L'Oreal HiP Shadow The only eyeshadow that holds a candle to the pigment you find in shadows by MAC, Urban Decay and Nars.  Need I say more?
6. Rimmel "by Kate" Lipstick I love how moisturizing this lipstick feels and they offer some great shades.  The tube is also cute.  (What? It is. )
7. Neutrogena Concealer  Treats AND covers at the same time, and is in a convenient little pump tube that never gets your fingers messy.
Please share your favorite finds as well,  I'm always on the hunt for more!