Ice cream making is uncharted territory for me- but now that summertime has rolled in I knew it would not be long before I gave it a try.  Our good friends Cassity and Zach surprised us this year for Christmas with the ice cream bowl attachment for my Kitchen-aid, and we were beyond excited about it.  Six months later, I finally pulled it out of my freezer and put it to good use.  Of course, the week that I am on the detox and can not have one bite.  Torture.  I assure you though, it was tasted and loved by many- just not me.

Buttered Pecan Maple Ice Cream
Recipe by Epicurious, Makes 1 Quart
Ingredients:
3/4 cup pecans
1 tablespoon unsalted butter
2 cups heavy cream
1/2 cup milk
3/4 cup pure maple syrup
1/8 teaspoon salt
3 large egg yolks
1/2 teaspoon maple extract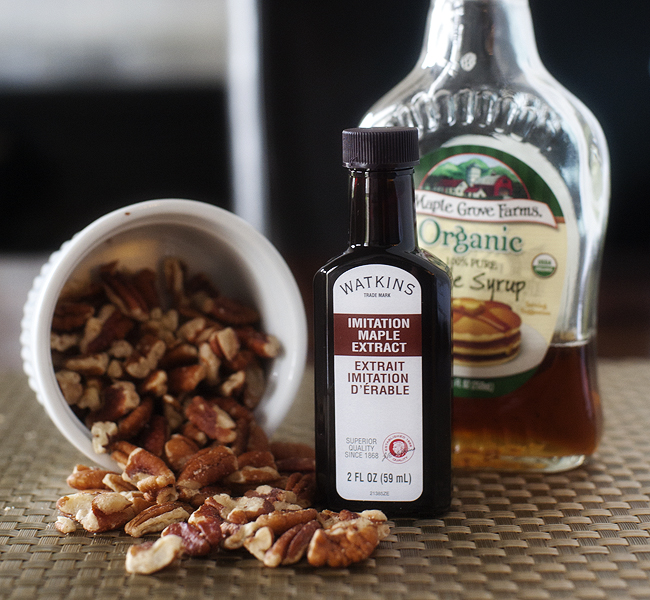 Directions:
Coarsely chop pecans. In a skillet melt butter over moderate heat until foam subsides. Toast pecans in butter, stirring occasionally, until golden and fragrant, about 5 minutes, and sprinkle with salt to taste. Cool pecans and chill in a sealable plastic bag. Buttered pecans may be made 3 days ahead and chilled.
In a heavy saucepan bring cream, milk, maple syrup, and salt just to a boil, stirring occasionally. In a bowl beat yolks until smooth. Add hot cream mixture to yolks in a slow stream, whisking, and pour into pan. Cook custard over moderately low heat, stirring constantly, until a thermometer registers 170° F. Pour custard through a sieve into a clean bowl and cool. Stir in extract. Chill custard, its surface covered with plastic wrap, at least 3 hours, or until cold, and up to 1 day.
Follow the instructions specific to your ice cream maker- mine instructed me to slowly pour ice cream (still liquid at this point) into frozen bowl, as it was in "stir" mode, and to let stir about 20 minutes until desired texture is achieved.  Transfer ice cream to a bowl and fold in chilled pecans. Transfer ice cream to an airtight container and put in freezer to harden. Ice cream may be made 1 week ahead.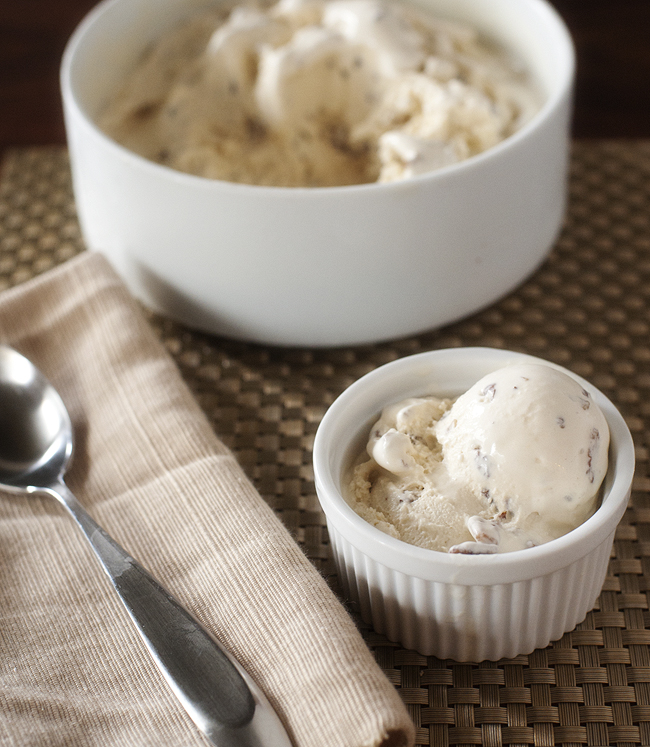 I was so surprised at how simple this ice cream was to make.  Last week guest jane Vicki posted an incredible bread pudding (that I DID taste, and it was delish) and I can only imagine the insane goodness that would come if you combined the two recipes!