It's officially here – swimsuit season. Is there a more dreaded piece of clothing to shop for? And forget those "shop your shape" tactics – they are helpful, yes, but very few women can be summed up in one specific shape. You have to put in the work and try on many styles in different brands. Here are some suits we love and are coveting. They are not perfection by any means but they will at least get us through a pool date without hiding under a cover-up the entire time.
Brandy J: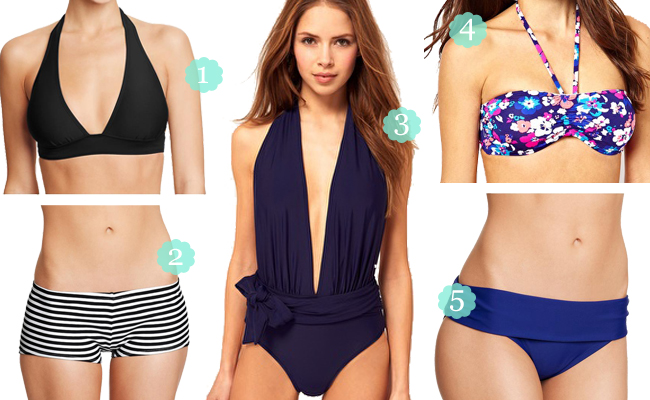 1Old Navy Halter Top great classic top with adjustable back and neck ties. 2Old Navy Boy-Short Bottom sits low on my straight hips adding width while providing full coverage. 3ASOS Plunge Backless Suit is meant for those rare occasions with husband only (not something I would want to chase a toddler in). This suit makes me feel classy and sexy yet covered up. 4 ASOS Floral Bandeau Bikini Top has caught my eye for it's fun print and bandeau style. Definitely on my "try" list. 5Old Navy Fold-Over Bikini Bottom is another favorite bottom of mine. These are perfect for a narrow hip and the fold-over style is subtle yet fun.
Shan: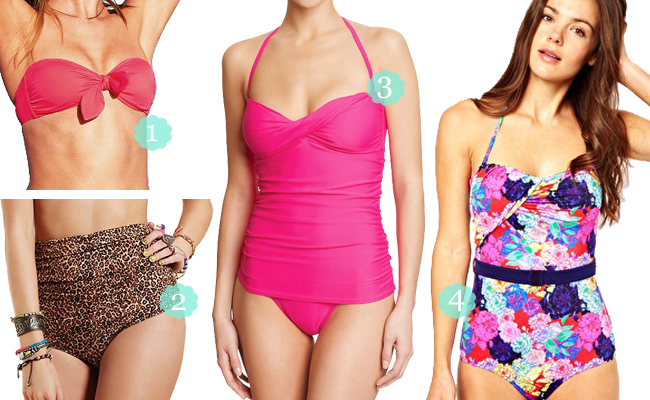 1 This bandeau top from Victoria's Secret is great because it doesn't have tons of padding but provides adequate support, and paired with (2) Urban Outfitters High-Waisted bottoms you get a fun, retro look. 3 Old Navy has a great selection of "control max" suits that are slimming and flattering for a curvy girl. This was my swim-class go-to suit for toting a tot around in the water. 4 This ASOS floral had me at hello! The band visually separates the suit, lending your waistline some help- and the colors are to die for!
Finding a suit you love and feel great in can seem like mission impossible. Knowing your body and what flatters you best is the key to shopping for the perfect suit!