This morning my baby woke up a two year old.  A TWO year old, how is this even possible?  Two years ago we were changing newborn diapers and listening to the swish-swash of a baby swing.  Today we are negotiating footwear options and melting at the sound of "I love you too" in the sweetest voice.  We knew having a little person in our lives would be the most amazing experience, we just had no idea how unbelievably amazing it would actually be.  She is the sunshine in our everyday, having her as our daughter is a gift beyond compare.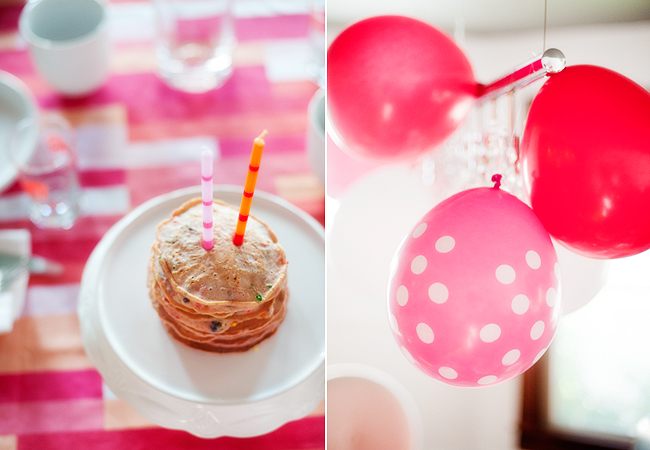 When one wakes on their birthday obviously celebration is in immediate order.  Her official party is tomorrow but we wanted to do a little something today.  All we needed was a tablecloth, some balloons and confetti candy pancakes – instant party breakfast.  She loved the balloons and pancakes, it was the lit candles she was not too sure of.
Birthday Party Pancakes (basic pancake recipe from Martha Stewart)
Ingredients
1 cup all-purpose flour, (spooned and leveled)
2 tablespoons sugar
2 teaspoons baking powder
1/2 teaspoon salt
3 tablespoons colorful sprinkles or pearls
1 cup milk
2 tablespoons unsalted butter, melted, or vegetable oil
1 large egg
1 tablespoon vegetable oil
Assorted toppings, such as butter, maple syrup, confectioners' sugar, honey, jams, preserves, sweetened whipped cream, or chocolate syrup
Directions
Preheat oven to 200 degrees; have a baking sheet or heatproof platter ready to keep cooked pancakes warm in the oven. In a small bowl, whisk together flour, sugar, baking powder, sprinkles and salt; set aside.
In a medium bowl, whisk together milk, butter (or oil), and egg. Add dry ingredients to milk mixture; whisk until just moistened (do not overmix; a few small lumps are fine).
Heat a large skillet (nonstick or cast-iron) or griddle over medium. Fold a sheet of paper towel in half, and moisten with oil; carefully rub skillet with oiled paper towel.
For each pancake, spoon 2 to 3 tablespoons of batter onto skillet, using the back of the spoon to spread batter into a round (you should be able to fit 2 to 3 in a large skillet).
Cook until surface of pancakes have some bubbles and a few have burst, 1 to 2 minutes. Flip carefully with a thin spatula, and cook until browned on the underside, 1 to 2 minutes more. Transfer to a baking sheet or platter; cover loosely with aluminum foil, and keep warm in oven. Continue with more oil and remaining batter. (You'll have 12 to 15 pancakes.) Serve warm, with desired toppings.
Happy Birthday to our beautiful, sweet and spunky Jettie Jean.  What a fabulous two years it has been – can't ask for anything else but to be blessed with many many many more.  We love you Jeannie!