The sunlight that fills my kitchen around 7pm these days is the kind that you just want to bottle up.  Summertime is upon us and I can't get enough of all of the lovely things that come along with it.  Brighter mornings, open windows, maxi dresses, playing in the yard, fresh flowers on our kitchen table, desserts served with ice cream.
This crumble is really, really, really good.  Especially with ice cream.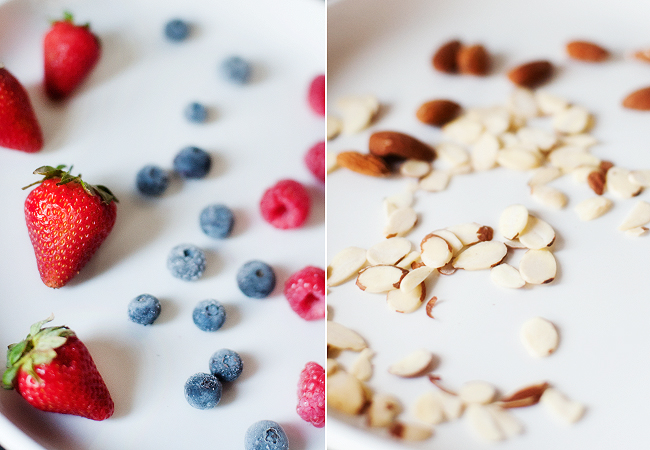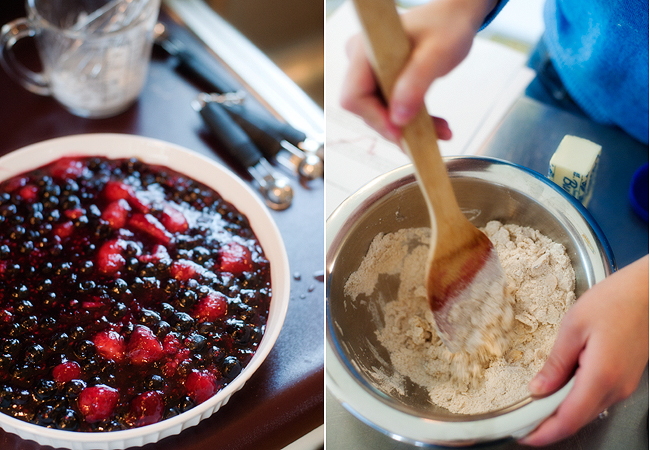 Mixed Berry Crumble
Ingredients
Berry Mixture:
2 teaspoons water
2 tablespoon cornstarch
¾ cup sugar
6oz raspberries
8oz strawberries
8oz blueberries
Crumble mixture:
1 cup flour
¾ cup packed light brown sugar
2 tablespoon chopped almonds, toasted
¼ teaspoon ground cinnamon
⅛ teaspoon nutmeg
⅛ teaspoon salt
3 tablespoons applesauce
6 tablespoons cold butter, cut into small pieces
Instructions
Add water and cornstarch in a bowl and mix to combine. Place cornstarch mixture, sugar and all berries in a large skillet over medium high heat. Stir mixture and heat until it starts boil. Pour mixture into a 9×13 pan and set aside to cool completely.
Add remaining dry ingredients and whisk to combine. Add applesauce to mixture. Add in butter and use a pastry blender or two forks and cut butter into mixture. Sprinkle mixture over cooled berry mixture. Bake at 400 degrees F for about 30-35 minutes or until filling is thick and bubbly and topping is golden brown. Remove from oven; let cool for 20 minutes. Top with ice cream. Devour.
adapted from Bakers Royale
The fun thing about a crumble is that you could swap out any of these berries for whatever you have on hand.  Such a quick and easy after-dinner treat.
Enjoy,