Remember when I mentioned my favorite muffins in the world? Well, here they are.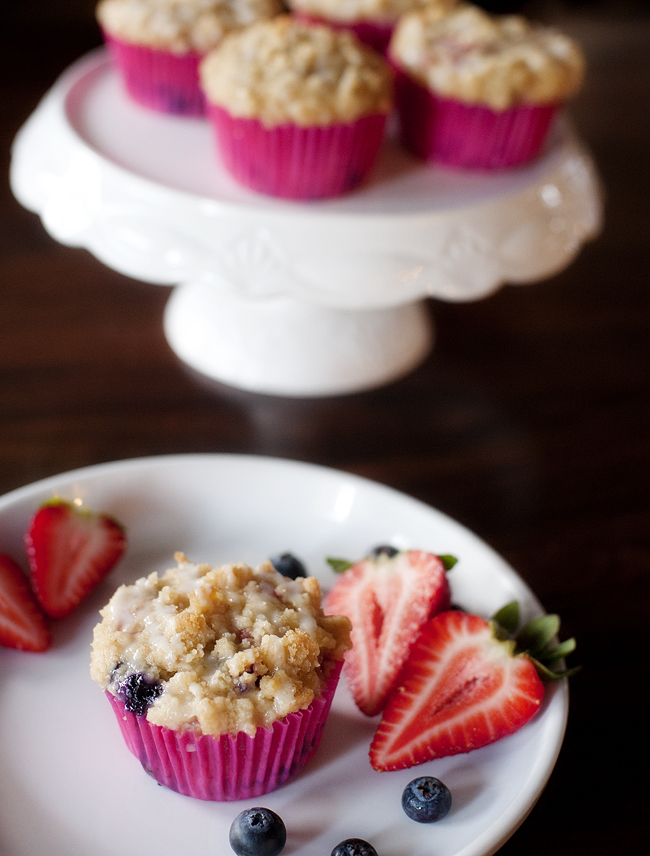 I have been on such a muffin kick lately.  Banana nutella, cinnamon streusel,  cranberry white chocolate, you name it.  But these… I have a soft spot for these pretty babies.  Fresh berries, the depth of the brown butter, the texture of the streusel.. who wouldn't fall in love?  Last weekend Flour Loves Sugar set up at Relay For Life- and after selling out of cookies Friday night I decided to make them for Saturday morning in place of cookies.   I don't think anyone minded.  Yum, yum, yum.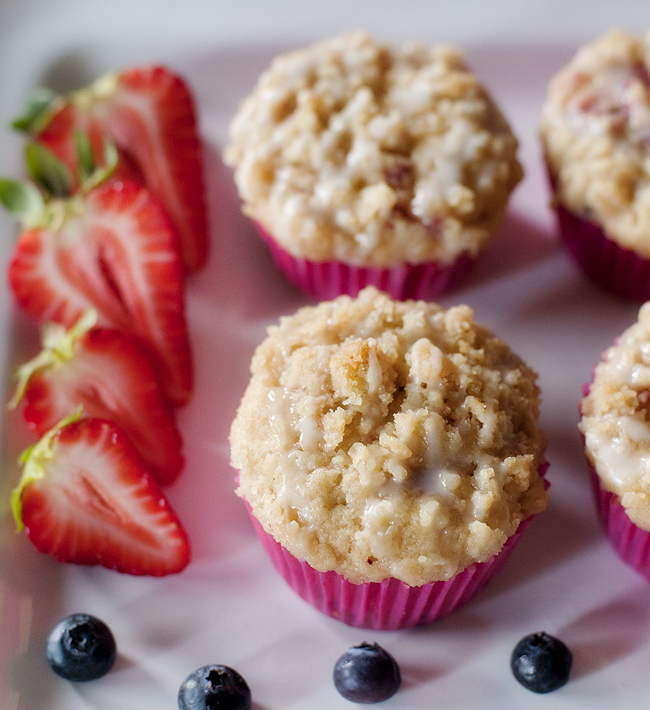 Double Berry Streusel Muffins

Yield: 12 muffins
Ingredients:
Muffins:
1/3 cup unsalted butter, browned
1/3 cup milk
2 eggs
1 tsp pure vanilla extract
1 1/2 cups all purpose flour
3/4 cup granulated sugar
1 1/2 tsp baking powder
1/4 tsp salt
2 cups berries (strawberries hand chopped, blueberries full)
Streusel Topping:
3 tbsp butter, soft but still cold
1/2 cup all purpose flour
1/4 cup brown sugar
Almond Milk Glaze:
1/2 cup powdered sugar
2-4 tbsp almond milk (or regular milk if you prefer)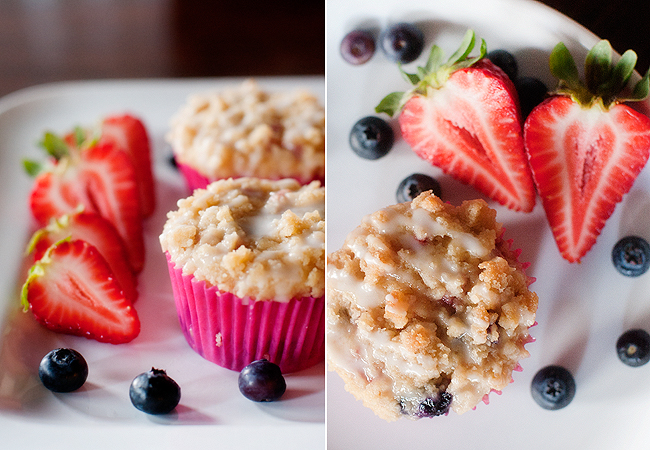 Directions:
Brown 1/3 cup of butter, and preheat oven to 375F. Whisk in milk, eggs and vanilla extract.  In a separate bowl, whisk together flour,  sugar, baking powder and salt.  Gently fold liquid into dry ingredients, followed by berries.  Do not over mix!
Divide batter evenly using large ice cream scoop in 12 muffin liners.
Prepare topping by cutting butter into the flour and brown sugar, creating a crumbly texture.  Sprinkle evenly over muffins.  Bake 18-20 minutes, until a toothpick can be inserted and comes out clean.
Once cool, whisk together milk and powdered sugar until desired consistency is achieved, and drizzle over muffins.
Enjoy,