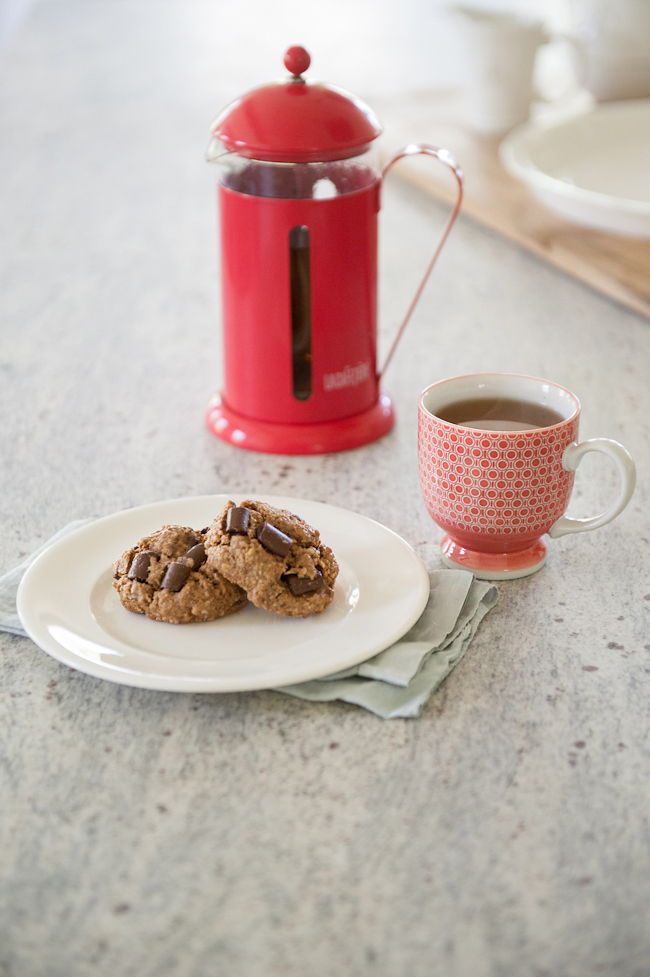 We all want what is best for our children. It's an innate desire that is instilled in us. For me, that meant being able to nurse both of my children for as long as I could with the end goal of one year. My mother nursed four children and so many seemed to always have an ease with this motherly gift of feeding your child. With our first child, I was saddened to find my milk decrease at times and it be in low supply for my child. My milk is never rich and fatty. Much more like a skim milk consistency. My children started losing weight and their percentiles dropped. This quickly added stress to my role as a mother. One I didn't expect. I then started talking with other moms. They either had an over abundance of milk (insert milk envy) or they were struggling just like me and feeling like a failure. How could something so natural be so hard?
I have tried everything to increase my supply. I was so stubborn and knew there must be a way to get my body to make this work. I have taken fenugreek capsules until Chris and I both craved pancakes (side effect is a maple syrup smell that comes from your skin), I've consumed large amounts of water, drank several glasses of pre-made Mother's Milk Tea, enjoyed a dark beer (I promise people say this helps!), eaten my weight in oatmeal, and tried to "rest" more. As you can tell, I've covered every online, doctor, midwife, La Leche and medical advice.
I definitely saw these ways helping at times, but I was spending a lot of money on all the pre-made tea each month. I started to think there might be something else and that I needed to start making my own tea. These two ideas are the inspiration behind this post. Tea and cookies for nursing moms.
**Also a great gift for a mom you might know struggling with this. We all need as much encouragement as we can get while nursing. It is a daily fight for me to be able to have the milk for my son.
My recipe inspiration came from two online recipes that I have adapted to my own and what I enjoy. Here is the original cookie recipe and here is the original tea recipe. Do read the tea post she made. It gives a great run down on what is helpful for each herb in the tea for your body.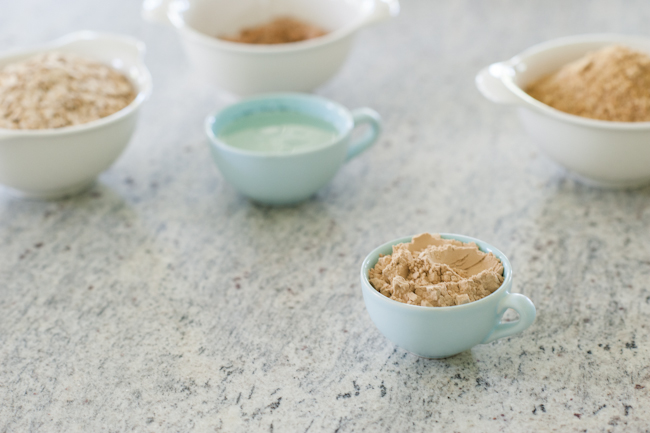 Mama's Milk Cookies
1 1/2 cups whole wheat flour
1 tsp baking soda
1 tsp cinnamon
1 tsp salt
3/4 cup ground almond butter or peanut butter
1/2 cup melted coconut oil or butter
1 cup ground flax seed
4 heaping tbs brewer's yeast
1/3 cup + 1 tbs water
1/2 cup sugar
1/2 cup brown sugar
1 tsp vanilla
2 large eggs
1 3/4 cups oats
1 bag of large Nestle chocolate chunks
*Preheat oven to 350 degrees
I have had to be Gluten and Dairy Free after Bergen's birth due to an intolerance that started after delivering him, resulting in stomach pain and migraines. (Oh, the parts of motherhood you never expected.) I used a homemade blend of GF flour from the Artisanal Gluten-Free Cooking cook book. It's been a perfect substitution. I actually like it better made this way.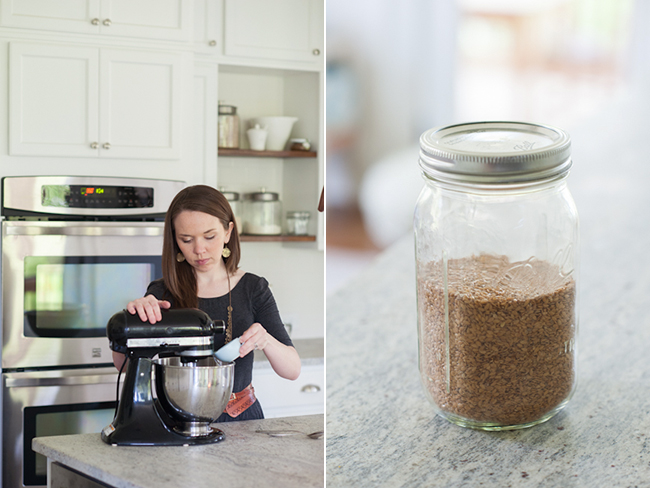 You want to start with your dry ingredients. Mix together your flour, baking soda, cinnamon and salt in a bowl.
In your mixer, combine the almond butter, coconut oil, sugar, brown sugar, vanilla, brewer's yeast, flax and water. It will be a sticky dough at this point.
Mix in your two eggs and then add your flower mixture one tablespoon at a time. Add your oats and mix.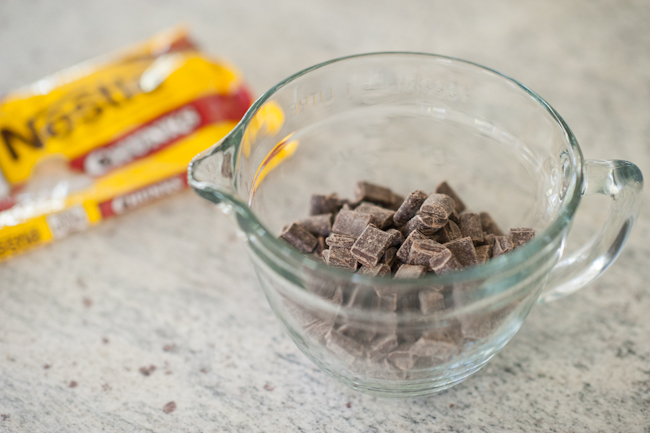 The last step is adding the chocolate chunks. They are big and hard to mix into this thick dough. I tend to do it by hand and add four or five big chunks on each cookie as I form the balls.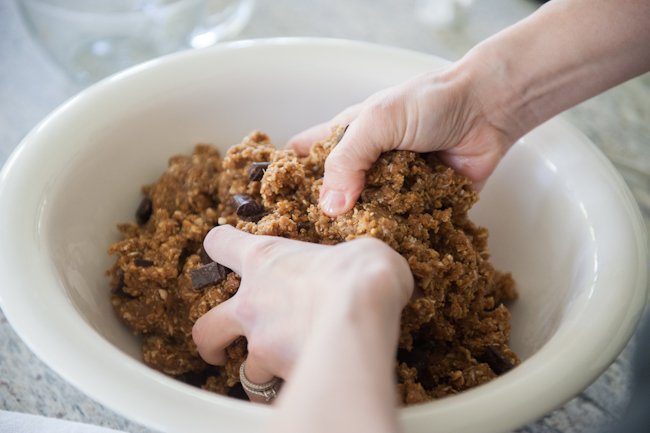 Bake for 12 – 14 min. Set the timer to 12 min but check back and keep adding one or two minutes until they just start to brown on the edges. You want them fully cooked but still soft and chewy.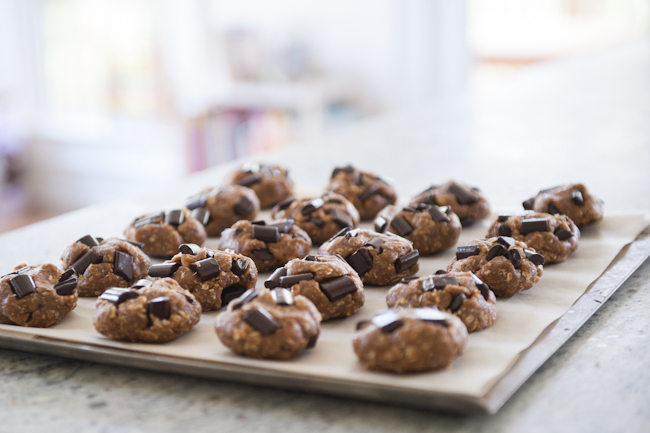 My three key ingredients: brewer's yeast (why dark beer helps too), coconut oil (full of essential fats for your milk – read this article for a great explanation), and oatmeal (also known to help in milk production).
*brewer's yeast and melted coconut oil pictured below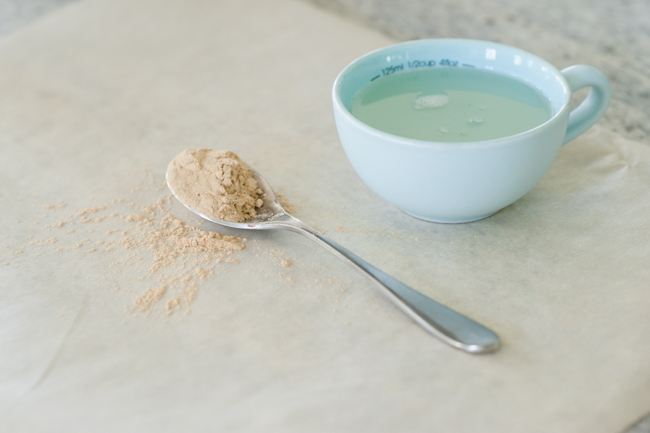 This makes 2 dozen good size cookies or 3 dozen smaller cookies. I ate the WHOLE batch last week. I was sick and really struggling with my milk so I was eating more of them. I noticed that even though I was enjoying these cookies with nut butter, two types of sugar and coconut oil in them, I was maintaining my normal weight and even on the low side of it. I might have even dropped one or two pounds. I have noticed every time when I eat these cookies. I finally decided to do a little light online "research" as to why this might be. I googled brewer's yeast and weight loss. Several links come up with that search, here is one that says to use brewer's yeast as weight loss. I'm not saying that it's a confirmed fact, but it does seem to work for me. Do you own research. I'm not encouraging you to take it for weight loss, but hey, if I can lose some weight while making more milk….um, that is a win/win in my book!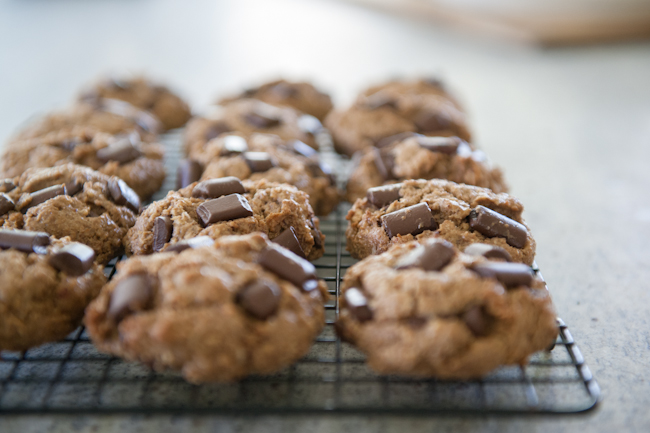 Mama's Milk Tea
I searched the web and found the homemade tea recipe that I linked at the beginning of the post. As she recommended, I went to Mountain Rose Herbs for all of the organic herbs I used for the tea. I looked on amazon as well to compare pricing and found them to be better for price and a one stop shop for all of the herbs. They come in a pretty large quantity, so you will get your money out of it if you nurse for awhile. You will also have enough to be able to give it away to other moms in need.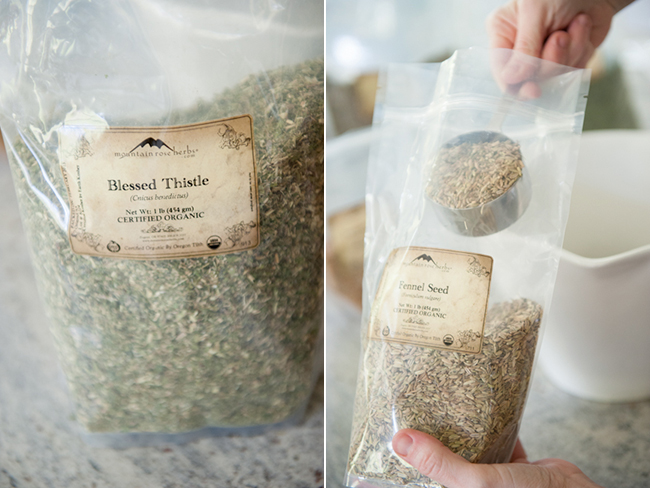 Ingredients:
1 cup dried nettle leaf
1 cup dried red raspberry leaf
1/4 cup dried fenugreek seed
1/2 cup dried alfalfa leaf
1/2 cup dried dandelion leaf
1/2 cup dried fennel seed
1/2 cup dried blessed thistle
Added Ingredients for flavor:
1 packet of Truvia
1/2 tsp cinnamon
Combine the tea and mix well. Then put it in a glass container to store in a dark cabinet. You don't want it to lose the nutrients they are packed full of by being exposed to light.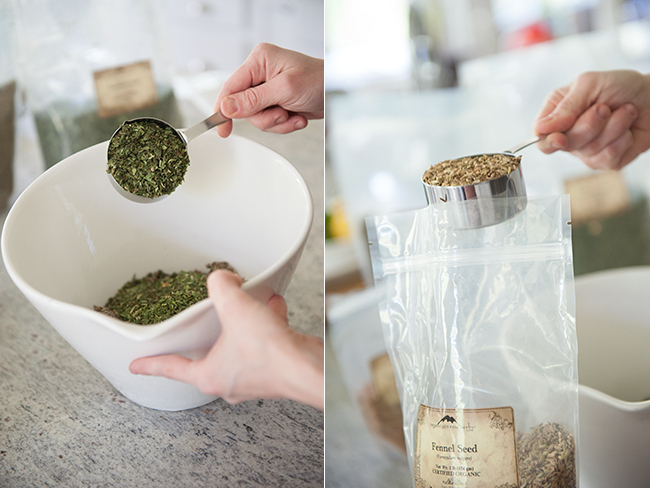 Put four heaping tablespoons in a french press or use one tablespoon per cup of hot water if you are making a single serving.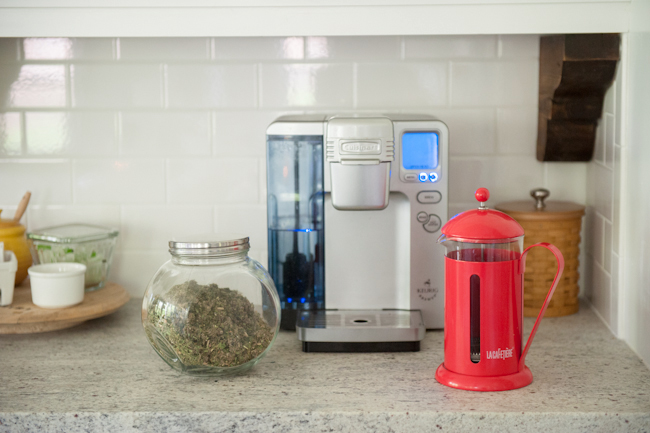 Fill your french press with hot water.  Put in 1/2 tsp of cinnamon and 1/2 to 1 packet of Truvia depending on how sweet you want it.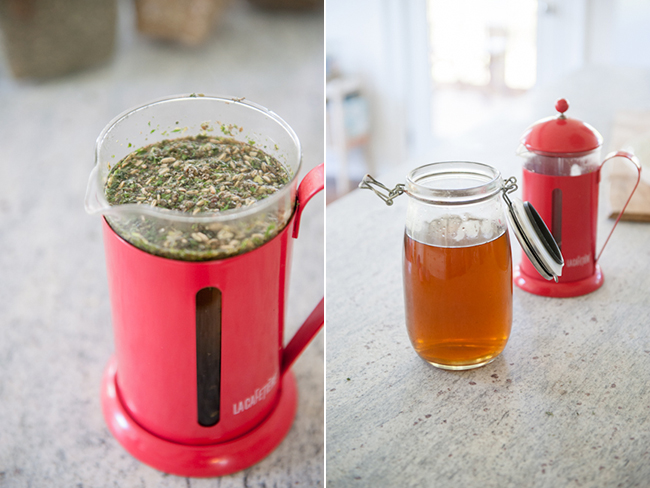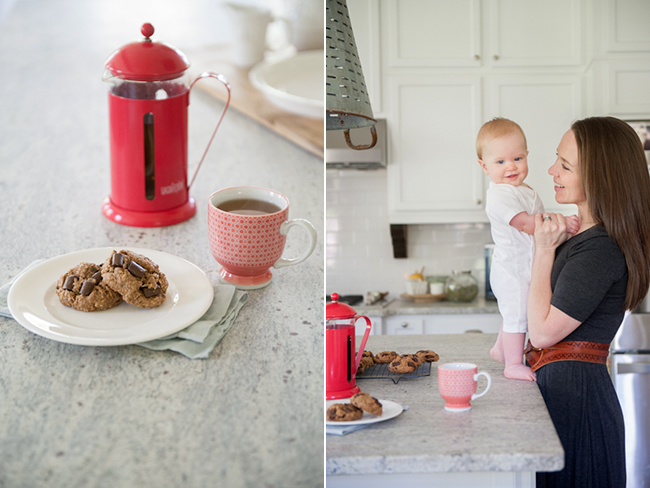 Let it steep for 15 minutes. Then pour it in a glass container. It fills about 1/2 way on mine so I then make another batch in the french press to fill my container full. I leave it on the counter at room temperature (my preferred temperature, cold is just fine too) and then drink it all in one day. You don't have to drink that much per day, but I am a more is more kinda girl when it comes to fighting for my milk.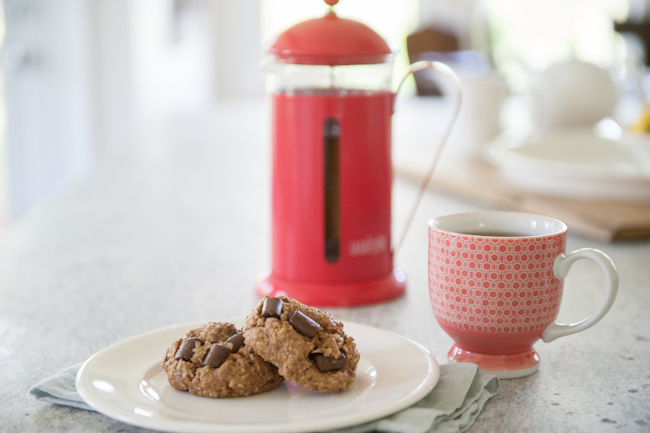 I could go on for days about the benefits of nursing, each of the herbs, ingredients in the cookies, etc. I won't be doing that here, but I did give plenty of links to articles to read to educate yourself.
I truly hope this post encourages and helps moms out there. We are all in this together. You are not alone in this fight and your discouragement is shared by many. Take heart, you do have some control in this. Don't give up, instead, enjoy an afternoon baking and then sit down during nap time. Enjoy that slice of quite heaven and sip your tea and eat a cookie. It's all going to be just fine.