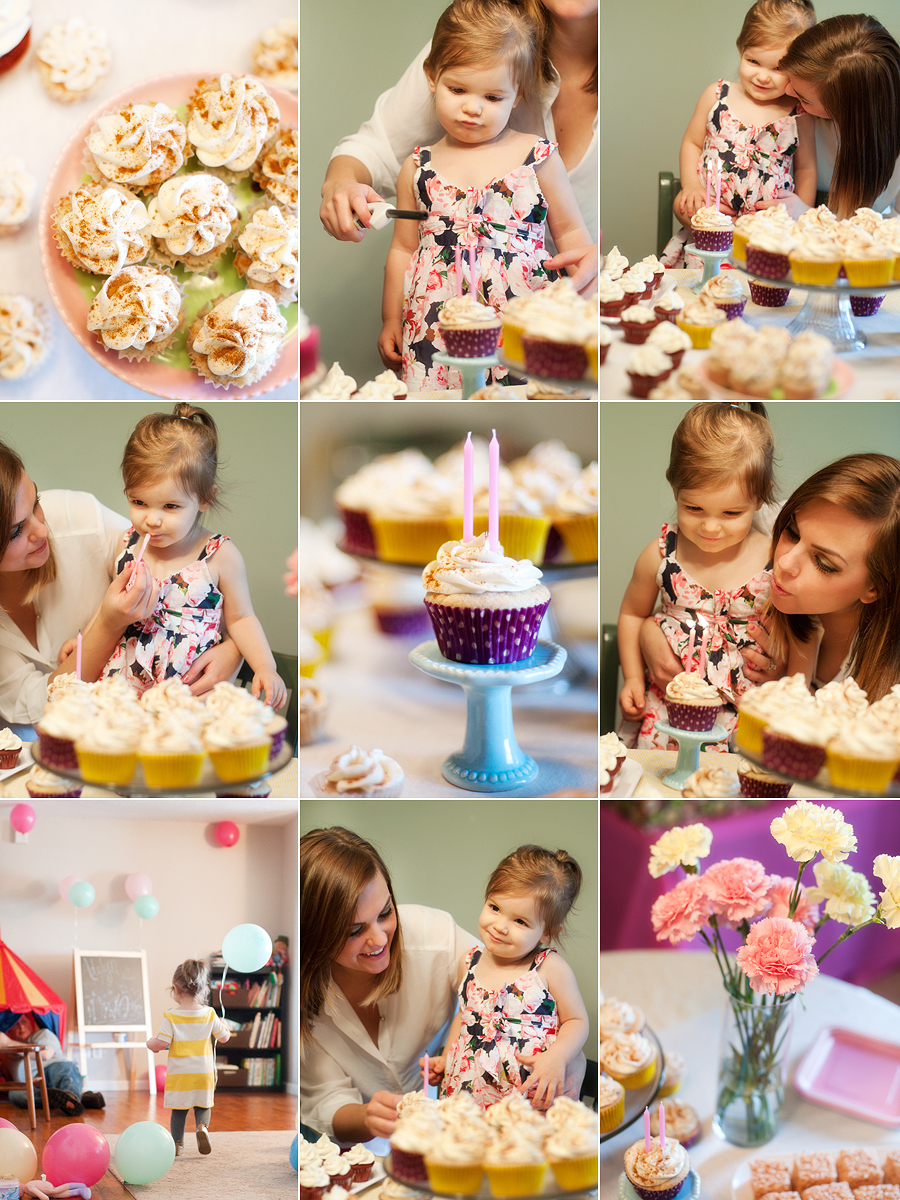 Two. Years. Old. These things seem to sneak up on me. A year ago, I remember sitting on my couch, getting the proof of Adelynn's first birthday party invite and the words, "Adelynn is Turning One" hitting me like a ton of bricks. I was immediately in the fetal position, sobbing, heartbroken by the reality my baby was really turning a year old. Sitting here now, I am again struck by that same reality. And no, I am not taking it any better this year.
In two short years our little girl has changed so much. These days are all about adventure, bedsheet forts, princess castles, bubbles, swim class and Pooh. I often look at her, and I try to soak up every ounce of her presence. Its almost as if I know some day these memories will be a stretch, and I wonder which ones will vividly stand out in my mind and which ones time will take away from me. I want to keep them all, lock them up in some corner of my heart reserved solely for her. As she blows out those birthday candles, I have a few wishes as well. I hope to always remember the scent of her skin, and the way she bats those long lashes… the sound of her deep belly laugh, and the way she says her name "Ah-I Mackies"… the hurt in her eyes when something sad happens in a movie and the joy when she sees a familiar friend. I hope that she always knows just how blessed I feel to have the privilege of being her mommy, and that I love her to no end. Her sweet little soul has changed our lives in indescribable ways.
In honor of Adelynn's birthday- today I am sharing with you two of my favorite cupcake recipes!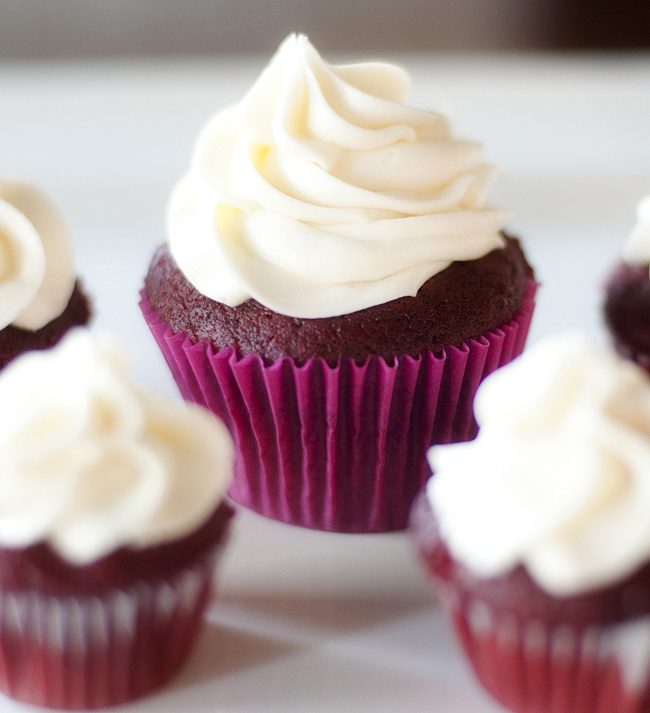 Red Velvet Cupcakes
Recipe by The Hummingbird Bakery Cookbook
4 Tablespoons unsalted butter, at room temperature
3/4 cup sugar
1 egg
3 Tablespoons unsweetened cocoa powder
1 Tsp red food color paste, or 2 tbsp liquid food coloring
1/2 teaspoon vanilla extract
1/2 cup buttermilk
1 cup plus 2 Tablespoons all-purpose flour
1/2 teaspoon salt
1/2 teaspoon baking soda
1 1/2 teaspoons distilled white vinegar
Directions:
Preheat oven to 350F. Cream the butter and sugar until light and fluffy, about three to four minutes. Once fluffy, add the egg, followed by the vanilla and food coloring. Scrape down sides of mixing bowl to be sure all is well incorporated. In a separate bowl, combine flour, cocoa powder and salt. Turn mixer to low and slowly add half of the buttermilk, followed by half of the dry ingredient mix. Scrape the bowl and repeat the process with the remaining milk and flour mix. Beat on high until smooth. Turn mixer to low and add baking soda and white vinegar. Turn to high and beat a few more minutes. Divide batter into a paper lined muffin pan and bake for 20-25 minutes or until a toothpick inserted into the center cupcake comes out clean. Let rest in the pan for 10 minutes, then place them of a cooling rack to cool completely before frosting.
Cream Cheese Frosting
2 1/3 cups powdered sugar, sifted
3 Tablespoons butter, room temperature
4 ounces cream cheese, room temperature
Beat the powdered sugar, cinnamon, and butter together in the bowl of a stand mixer fit with a paddle attachment. Mix on medium-slow speed until it comes together and is well mixed. Add the cream cheese and beat on medium until incorporated. Turn the mixer to medium-high and beat for 5 minutes, or until the frosting becomes light and fluffy.
Snickerdoodle Cupcakes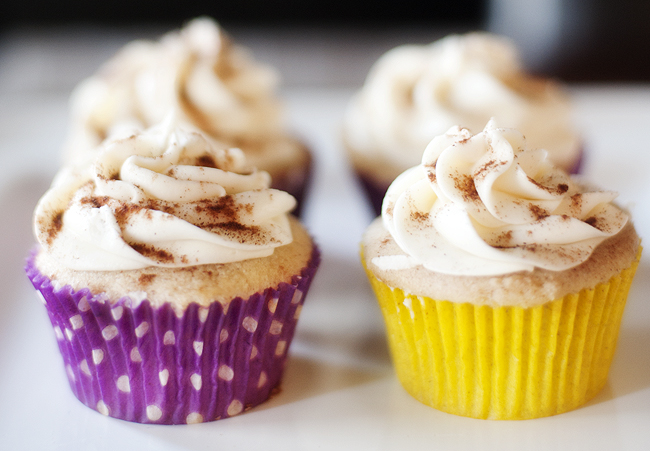 Recipe by: Recipe Girl Yield: 28 Cupcakes
1 1/2 Cups all purpose flour
1 1/2 Cups cake flour
1 tbsp baking powder
1/2 tsp salt
1 tbsp ground cinnamon
2 sticks unsalted butter, at room temperature
1 3/4 Cups sugar
4 large eggs, at room temperature
2 tsp vanilla extract
1 1/4 Cups whole milk
Directions:
Preheat oven to 350F. Line muffin tins with liners. Sift together both flours, baking powder, salt and cinnamon. In mixing bowl, cream together butter and sugar until fluffy. Add eggs, one at a time, beating until each is incorporated. Scrape down the bowl sides as needed. Add vanilla. Add the flour mixture in three parts, alternating with additions of milk. Divide batter evenly among liner cups, filling about 3/4 full. Bake about 20 minutes, until a toothpick can be inserted and cleanly removed from the center of the cupcake.
Cinnamon/ Cream Cheese Frosting:
12 ounces cream cheese, at room temperature
1/2 Cup unsalted butter, at room temperature
1 pound powdered sugar, sifted
2 tbsp brown sugar
1/2 tbsp vanilla extract
1 tsp ground cinnamon
2 tbsp sugar + 1/2 tsp cinnamon for topping
Directions: In mixing bowl, beat cream cheese and butter. Add sugars, vanilla and ground cinnamon.
Both of these cupcake recipes are go-to's in my house! I hope you enjoy them as well! Maybe next year will slow down… but probably not. Happy second birthday to my sweet, sweet girl!