Hello.
How are you?
It's so typical of me to talk about posting and then never do it…
Seriously though, I am so sorry blog. My excuse is that I've got more paying customers than ever on etsy with important pending parties. Plus I have been doing quite a bit of custom work which basically eats up my precious kid free, try to get everything done, time. Excuses…excuses, I know. But I didn't forget about you blog. (Or you either hot stuff…aka the person reading this.)
I've got things to post though. Good things too. Like this crafty, girlie, super fun birthday party we threw for our Jettie all the way back in May. (Which feels like a year ago.)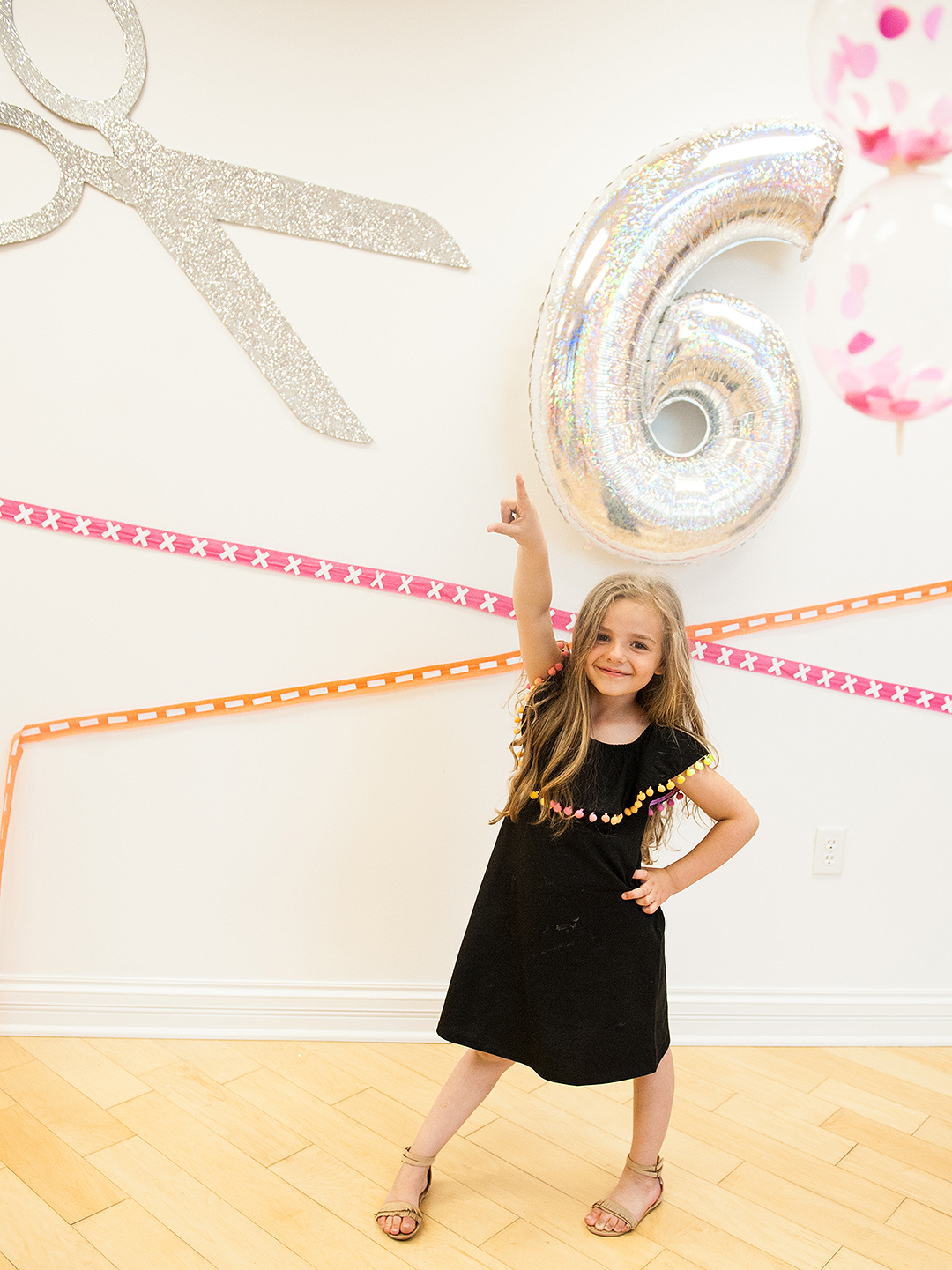 Jettie starts talking party themes early – like the candles are still warm from the previous party sort of early. I had mentioned this idea last summer, thinking she would stray from it and want something else. Much to my surprise the calendar turned to 2017 and she was still talking fashion craft party. I honestly was a little all over the place with it…and not finding much online in terms of inspiration. At which point I decided to keep it simple with colors, go bold and super clean. I could not have been more pleased with the way it all came together.
Once the invite was done I was still lost on how to tie it all in. That's when I decided to simply extend all of the elements from the invite design into the party decor. It turned out even better than I thought it would.
Jettie is all about "stations" – which is totally my doing since her 3rd birthday party and all the kitty cat fun. I knew the girls were not going to actually sew, but I wanted every activity to involve their imagination and personal style in some way. I landed on "Paint a Tank", "Dress a Mannequin" and "Design a Pillowcase". I always worry the stations will be a snooze fest but low and behold they never are. The girls LOVED THEM. (I think parents did a little too.)
This one sure kept me, and my wonderful helpers, busy. (Parents too!) I absolutely could not have done this without my mom. She is the best right hand (wo)man out there. It was also very special to have my precious Granny not only help us create the party, but sew pillowcases for the girls as well. My sweet MIL even got in on the action with the fabric selection part of the process. Jettie's friends have some amazing parents who see me running around like a chicken with my head cut off and jump in to help where they can. (Angels!) And of course Sticky is always there to do whatever crazy thing I ask… except lately it's mostly been to keep Bing out of the way of party process.
"Sew" to all of you…I say THANK YOU! You made "the cut". (Sorry, puns and parties go hand in hand in my world.)
Something I basically have only ONE image of (Brandy, someone else NEEDS to take pictures damnit!) is the "Create Your Own Design" station. We helped the girls create their own ensemble out of plastic tablecloths, tissue paper and tape. It was fun, kind of chaotic and there was some crying. Who knew "6" was such a dramatic age?! (Note Jettie's incredibly fake smile after a major meltdown in the bottom left image. She pulled it together though!)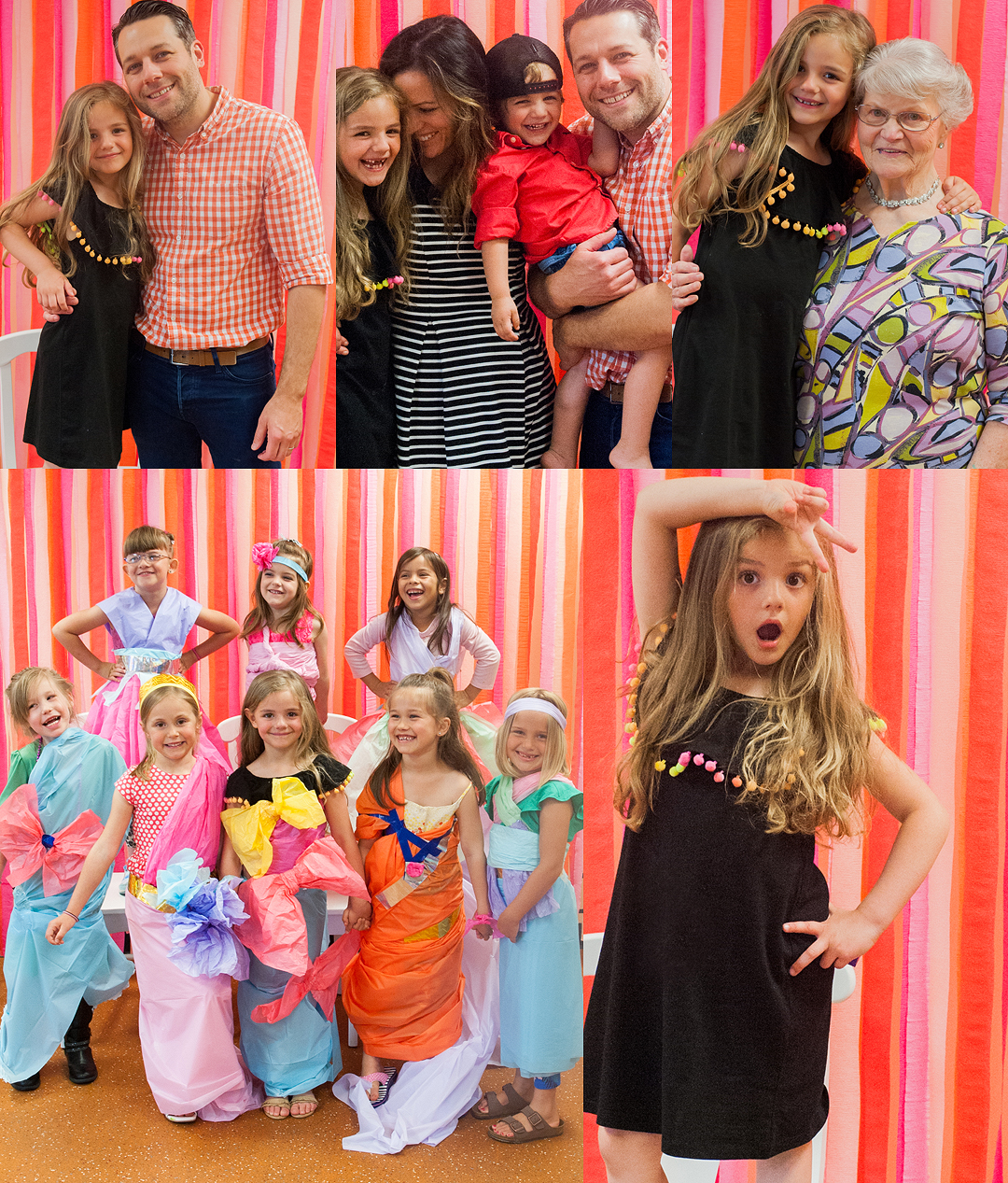 Jettie Jean I can't believe we threw you a SIXTH birthday party. Don't ever tame that imagination beautiful girl. It's something special, that's for sure. (And I'm not just saying that because I'm your mom.)
Now, I wonder when I'll get Bing's posted…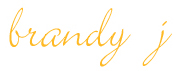 Vendors:
Invitation/Graphic Design/Party Decor: PPJ Shop
Cake: CakeCrazy
Large Party Signs: VistaPrint
Balloons: Bargain Balloons
Party Decor: Walmart/Amazon/Hobby Lobby
Fabric for Pillowcases: JoAnn's
Jettie's Dress: River Island